Breadboard Friends PCB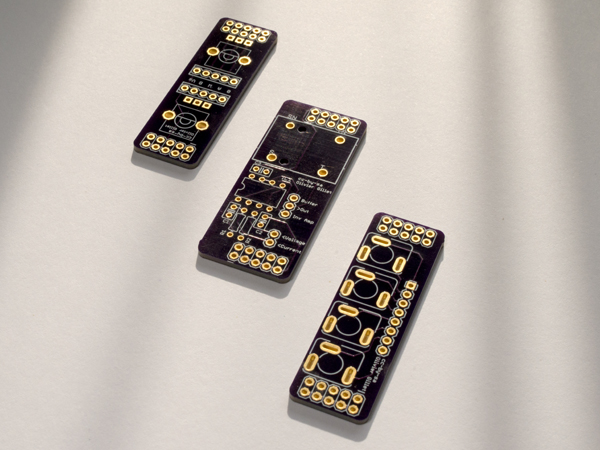 Price: £8.99
Now in stock. Less wheel reinvention, more synth DIY fun.
It's easy to get bogged down when breadboarding circuits if you need to construct an audio out stage, or struggle connecting pots and jacks up, not any more though!
With the aid of these handy utility boards you can try your ideas out much faster, solder pots and jacks to these boards and plug them straight into your breadboard, much easier.
This set also includes an opamp buffer with 6.35mm jack socket to quickly interface your circuit with the outside world.
To help you spend less time sourcing parts, the jacks board has been modified to fit the same WQP-PJ398SM or WQP-PJ301M-12 used by many other pcb's on this site.
Mutable Instruments stopped making the Breadboard Friends PCB's but we have made some afresh from the open source project files. Merci beaucoup Mutable!
Building Breadboard Friends
These are the easiest boards to construct that I sell, I'd recommend these to a beginner before building the Eurorack Synth Module Tester, which incidentally, is a great way to power your breadboarded synth circuits.
Returns policy
If you're not completely satisfied, You can return these PCB's for any reason within 14 days of purchase for a full refund!
Mutable Instruments do not have time to support DIY builds, please contact me with support queries related to these PCB's.