"Let me thank you for the excellent quality of the boards you've supplied and if you need an endorsement let me know!"
Steve, UK
"The PCB arrived quickly and I've now got a working module tester!
The BOM, instructions, and pre-flashed chip made for a pretty seamless experience.
Thanks again, looking forward to buying more boards from you in the future!"
G, Australia
New Module Tester v2 PCB and pre-flashed chip set.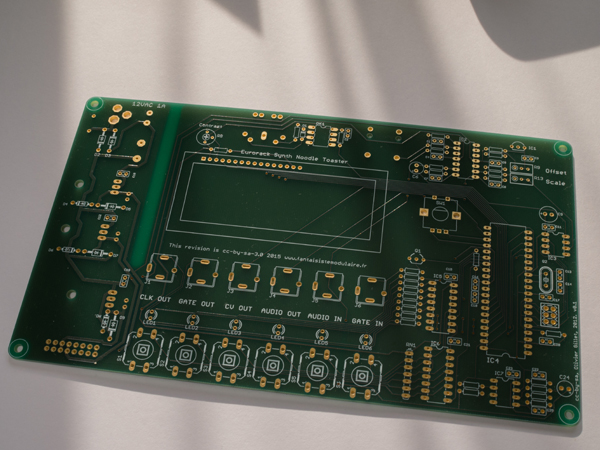 Price: £24.99
EU Customers, pay your local sales tax at the checkout, no extra customs charges on arrival, only on orders below €150 (about GBP £130), over €150 you pay the postman with an extra charge.
New version 2 now in stock! everything you need to design and test your DIY Eurorack synth module circuits.



If you like building your own Eurorack synth modules but prefer to test them before subjecting your rig to possible shorts and firey carnage, this project is for you!

Rebranded in accordance with Mutable Instruments wishes (as The Noodle Toaster), the Eurorack Synth Module Tester is a compact, portable blend of bench power supply, MIDI to CV converter, frequency counter, and function generator, tailored to the needs of DIY synth fans, module designers and contract manufacturers.

If you have modules made by a contract manufacturer, you can supply them with one of these for testing purposes, there is scope to modify the code to run specific test programs due to it's open source nature.

If you sell Eurorack modules, you'll like using this to test returns.

Features:

Audio output, square, saw, sine, ramp, triangle waves.

Functions as a basic standalone DIY synth, play notes by plugging in a midi keyboard (outputs notes as 1v per octave CV from the CV output, making this a midi-cv converter too).

Use the gate input to trigger notes from the audio out instead of a continuous tone.

All the above waveforms available simultaneously as an LFO (LFO waveform individually selectable), at a selectable 5,10 or -5 to 5 volts.

Clock output

Audio input allows VCO's to be calibrated, the code includes a frequency counter for doing this.

Mutable Instruments discontinued the Module tester pcb a few years ago, we like it so much we have started producing it ourselves from the open source project files.

We improve on the spec of the official MI PCB with this beautiful quality gold plated board made in England at our local high end PCB plant, unlike cheap PCB's that manufacturers claim to do a 100% E-test on, but which often aren't done properly, allowing board defects that can make troubleshooting DIY kits a nightmare, our PCB is fully electrically tested for your peace of mind and troubleshooting pleasure (or lack of troubleshooting pleasure with any luck!).

These PCB's are produced in accordance with the highest environmental protection standards, our manufacturer goes above and beyond whats required by law to minimise pollution and maximise sustainability, a real pleasure to solder, these are the best synth DIY PCB's available!

Free shipping on UK orders including this item.
Building the DIY Eurorack Synth Module tester
This pcb is a fairly easy build, it uses through hole parts and suits anyone who can solder them. I generally recommend soldering some resistors to a piece of stripboard as practice for an absolute beginner, followed by a very simple project like the Breadboard Friends PCB's. you could build this one after you've learnt to solder like that.
It's important to put the resistor network on the right way round - the polarity is marked with a dot. I'd also recommend taking care soldering the header for the LCD screen on, if you put it the wrong way round your screen will be suspended 3mm off the pcb - much better to put it on so it lies flat against the board.
If you plan on putting this in a case, it's also important to bend the legs of the large electrolytic caps so they lie flat against the board, if soldered upright this PCB will not fit inside.
Overall this PCB is ideal for a fairly new project constructor, and incredibly useful for the more experienced!
Mouser Cart BOM and parts info.
We now have LCD screens and the switches used on the tester in stock,along with some other items for your convenience Mouser are sometimes out of these switches, and other items, and do not ship the LCD to European addresses (inc UK), but we have you covered. The switches can be used without the switch caps if need be.
This is a Mouser Cart BOM for easy ordering of most parts and for costing your builds. This BOM is for the new version 2 of the tester, this is the one currently on sale, any PCB bought after 16th July 2019 is V2.
This dc-dc converter has been tested by a few people (thanks guys), it's about 60% cheaper than the original one specced in the BOM, it has about 25% more ripple, it's 100mv/v rather than 75mv (per volt) Click here for a more ripply but cheaper DC-DC converter
If you bought your PCB before 16th July 2019 it will be version 1. Please scroll right to the bottom of this page for the v1 Mouser Cart (to make sure people who buy the v2 PCB don't click this one by accident).
Returns policy
If you're not completely satisfied, You can return these PCB's for any reason within 14 days of purchase for a full refund!
Mutable Instruments do not have time to support DIY builds, please contact me with support queries related to these PCB's.
If you bought your PCB before 16th July 2019 it will be version 1 Here's the v1 Mouser Cart.