Clouds DIY synth PCB
"amazingsynth.com provided incredibly helpful technical assistance with the last couple of steps of a Clouds module, which is now fully functioning and emitting incredible sounds! Thank you very much indeed - can't wait to start the next PCB!"
Dave Cranmer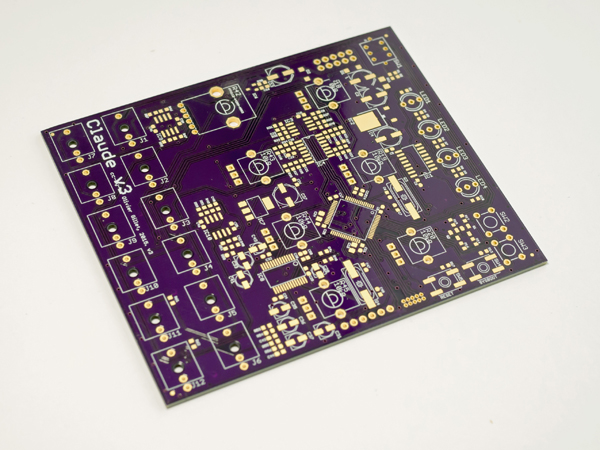 Price: £14.99
EU Customers, pay your local sales tax at the checkout, no extra customs charges on arrival, only on orders below €150 (about GBP £130), over €150 you pay the postman with an extra charge.
Granular synthesis in a handy module, in stock now.
Clouds is a texture sythesizer, sample sounds and manipulate tiny grains of them, it's like timestretching but much more flexible, also includes a reverb program, some amazing 3rd party firmwares are also available.
This PCB is a super high end board made in the UK, testing is used at every stage of the manufacturing process to ensure it is true to the original files.
Building Clouds
Clouds has most parts arranged in an accessible way, it does use a 64 pin TQFP chip which you'll either need to drag solder or reflow using paste and a stencil. I'd recommend doing a board like Tides, Peaks or Yarns first which all have a slightly smaller 48 pin MCU on them.
Here's a Mouser Cart BOM for easy ordering of most parts and for costing your builds. Try ordering several projects at once for lowest prices.
If Mouser are out of stock of the STM MCU used, these are also available from us, see the dropdown menus at the top of this page.
We also have the discontinued Nichicon 3mm 10uf SMD cap available above, Clouds uses 2 of these.
Returns policy
If you're not completely satisfied, You can return these PCB's for any reason within 14 days of purchase for a full refund!
Mutable Instruments do not have time to support DIY builds, please contact me with support queries related to these PCB's.