Plaits 0603 DIY synth PCB's in stock now!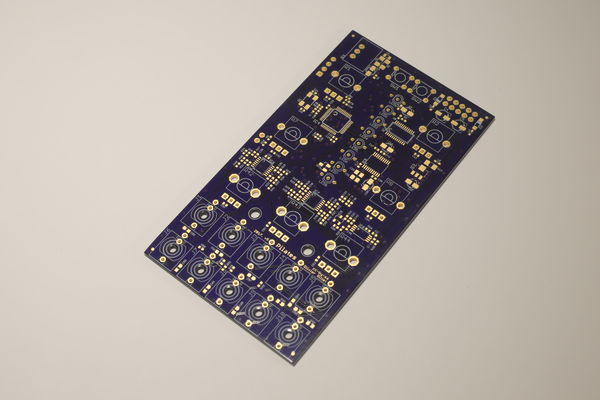 Price: £14.99
EU Customers, pay your local sales tax at the checkout, no extra customs charges on arrival, only on orders below €150 (about GBP £130), over €150 you pay the postman with an extra charge.
New, improved, digital DIY synth VCO.
"Great news my dude! I got the disco board earlier today and after was able to flash Plaits and it's working great. I'm all pumped up bro and this module is brilliant.Thanks again man and hit me up when those Marbles pcbs come in. These challenges can be frustrating but the feeling you get when successful is incredible."

Gregor, USA





Plaits is the replacement for Braids, it is improved in every way.

Plaits refines the sound selection interface and offers a more flowing experience, plaits is also much smaller than Braids and, thanks to a 3.3v dc-dc convertor instead of a linear regulator, uses half as much power. Plaits features 16 amazing synthesis models and a CV input for voltage control of the model selection. A virtual Low Pass Gate allows for easy creation of west coast style and percussive sounds. In just 12HP, Plaits serves as an incredibly versatile sound source, allowing all manner of oscillator models and specialised percussive sounds to be dialled in very quickly and changed on the fly.



Building Plaits is now easier than ever




The original Plaits is an advanced level build. It uses 0402 passives, might be time to mod a pizza oven for reflow.

Now, for your soldering enjoyment and subsequent oscillation pleasure, we present the new, fully tested, 0603 conversion of plaits, larger components make for easier construction and troubleshooting.

The easiest way to flash modules from Plaits onwards is to use a discovery board, Mutable Instruments use ST part Number: STM32F0DISCOVERY in the flashing and testing jigs they supply to their manufacturer, some people have had problems using a genuine STLINKV2 for this, but the disco boards work fine and are very inexpensive.

This is the kind of thing what we specialise in here at amazingsynth.com, fiendishly challenging DIY synth projects (some of them are pretty easy though, you might have noticed our guide to the difficulty level of each build).

If you've tackled Warps and Veils already I think you'll be ready for this, you'll definitely be ready if you've built a Kinks successfully.

When I started selling these PCB's in 2015, there was outcry, how dare you sell PCB's that use 0603 parts! Nobody will be able to build them! Whilst these can be challenging builds, the armageddon that was predicted hasn't really come to pass, lots of people have built these modules now, are you ready to take your skills to the next level?

Did I mention all our boards come with build support? and that we only use top end PCB factories that thoroughly test the PCBs and are kinder to the environment?

Here's a Mouser Cart BOM for easy ordering of most parts and for costing your builds. Try ordering several projects at once for lowest prices. (this cart has increased quantities for passives, if you want to save some cash, refer to the eagle file and reduce some down, passives are cheaper in quantity though remember :) )

If Mouser are out of stock of the STM MCU used, these are also available from us, see the dropdown menus at the top of this page.

We also have the discontinued Nichicon 3mm 10uf SMD cap available above, Plaits uses 5 of these.
Returns policy
If you're not completely satisfied, You can return these PCB's for any reason within 14 days of purchase for a full refund!
Mutable Instruments do not support DIY builds, please contact me with support queries.