Ripples PCB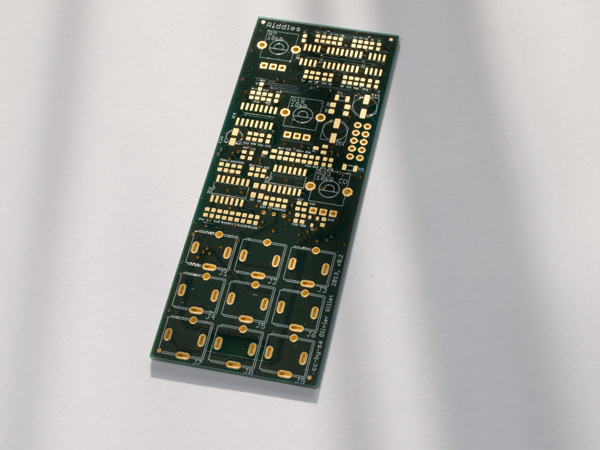 Price: £9.99
EU Customers, pay your local sales tax at the checkout, no extra customs charges on arrival, only on orders below €150 (about GBP £130), over €150 you pay the postman with an extra charge.
Amazing kick drums and sculpted, liquid sounds, latest version 0.4 in stock now.
Ripples is a voltage controlled filter with built in VCA, just one of these plus an envelope generator like tides can give you a complete hybrid digital/analogue synth voice.

Add another tides with the sheep firmware or a peaks dual ADSR and LFO and you'd have a wavetable VCO with analogue filter and VCA with a high tech modulation section.
The PCB's are the Latest version, v4, I just haven't got round to updating the photo yet. The current batch of PCB's are made at a top end factory in England.
Or perhaps you are a lover of FM? Ripples makes a decent enough sine VCO, tracks fairly well over a few octaves and the built in VCA means you can make rich FM timbres with a couple of these and a peaks (dual ADSR or LFO) for instance.
Building Ripples
I normally recommend Ripples to SMD beginners, it is one of the easiest of these boards to construct the building experience provides a strong foundation for the harder projects, some people have gone straight from building this to soldering Braids.
Here's a Mouser Cart BOM for easy ordering of most parts and for costing your builds. Try ordering several projects at once for lowest prices.
Ripples needs 1 SSI2164 Quad VCA IC
Returns policy
If you're not completely satisfied, You can return these PCB's for any reason within 14 days of purchase for a full refund!
Mutable Instruments do not have time to support DIY builds, please contact me with support queries related to these PCB's.