"I just finished building Shelves and it works perfectly."
Ben, Japan
Shelves PCB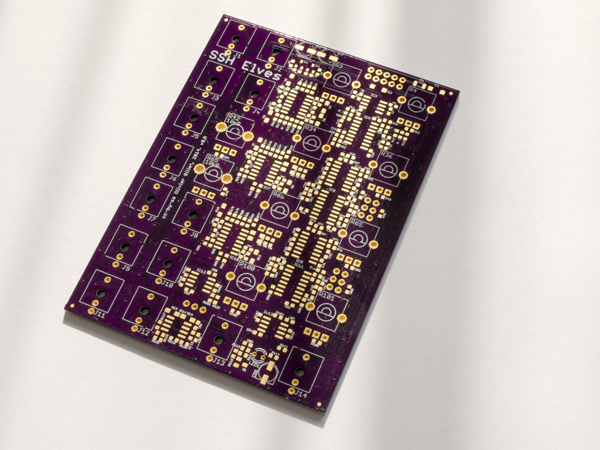 Price: £14.99
EU Customers, pay your local sales tax at the checkout, no extra customs charges on arrival, only on orders below €150 (about GBP £130), over €150 you pay the postman with an extra charge.
Multiband EQ and filterbank madness in stock now!
Shelves is a collection of filters united in one cause, um, equalisation. Use this as a voltage controlled analogue EQ or wire up the filter outs too for a filterbank extravaganza, just imagine feeding some noise from kinks through this then plugging the filter outs into separate VCA's and modulating them, a lot.
Building Shelves
You could call this Ripples++. More of the same SOIC IC's and 0603 resistors, a lot more. One person made this as his first SMD build, it's one of the easier boards due to the wide spacing of the leads on the 2164, you can solder each leg individually if you like, no need to drag solder.
Here's a Mouser Cart BOM for easy ordering of most parts and for costing your builds. Try ordering several projects at once for lowest prices.
Shelves needs 3 SSI2164 Quad VCA IC's
Returns policy
If you're not completely satisfied, You can return these PCB's for any reason within 14 days of purchase for a full refund!
Mutable Instruments do not have time to support DIY builds, please contact me with support queries related to these PCB's.