Tides PCB v0.4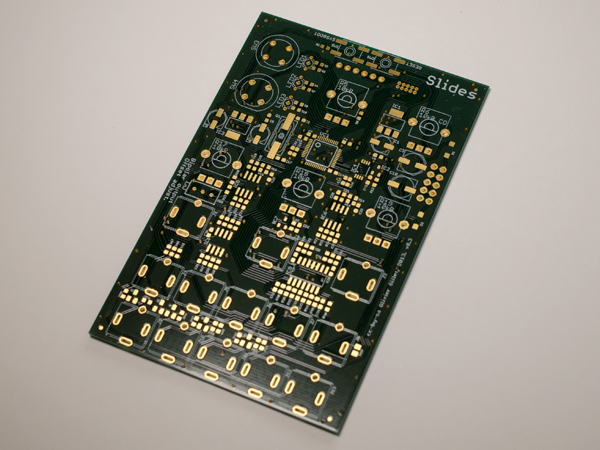 Price: £14.99
EU Customers, pay your local sales tax at the checkout, no extra customs charges on arrival, only on orders below €150 (about GBP £130), over €150 you pay the postman with an extra charge.
The most versatile slope generator in Euro, latest version 0.4 in stock now.
Tides has two official firmwares available.

You have a choice between an amazing AR slope generator with full voltage control, LFO style cycling options and logic outs that allow you to build complex modulation structures (by triggering other tides, peaks or any other gate or trigger input), or with the Sheep firmware a lovely wavetable oscillator. There are a couple of 3rd party firmwares available too I believe.

the stock firmware also works at audio rates, so can function as an independent voice.
Building Tides
An ideal mid level project to start with once you've got Branches or Ripples under your belt.
More accomplished builders might like to try the new Tides 2, which features quad outputs (each providing a variant on the main output with 4 different modes available).
The main advantages of Tides 1 over Tides 2 are the higher quality 16 bit dac and the Sheep wavetable VCO firmware, the original Tides uses 0603 passives which are much easier to hand solder than the 0402 parts Tides 2 uses, we generally recommend hot plate or air reflow instead of hand soldering PCB's with 0402 parts.
Here's a Mouser Cart BOM for easy ordering of most parts and for costing your builds. Try ordering several projects at once for lowest prices.
If Mouser are out of stock of the STM MCU used, these are also available from us, see the dropdown menus at the top of this page.
Tides v0.4 BOM (current pcb's)
Tides v0.3 BOM (pcb's sold prior to august 2018)
This Module pairs well with:
Kinks
,
Grids
, and
Clouds
.
Returns policy
If you're not completely satisfied, You can return these PCB's for any reason within 14 days of purchase for a full refund!
Mutable Instruments do not have time to support DIY builds, please contact me with support queries related to these PCB's.